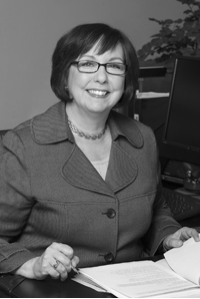 Trusts and Estates attorney Erica Bell began her legal career as a corporate litigator in New York City with a prestigious law firm, but realized that she wanted to work in an environment where she had a personal connection with individual clients and could make a difference in her community. For almost 30 years, Ms. Bell has concentrated her practice in trusts and estates matters, probate and estate administration at all levels of complexity.  She is particularly recognized in her work with domestic partnerships and non-traditional families.  Ms. Bell was a partner in the firm Weiss, Buell & Bell from 1989-2015, prior to forming the Law Office of Erica Bell, PLLC in 2016.
Whether developing an estate plan or working on an estate matter, Erica Bell believes in working in close collaboration with her clients to gain a deeper understanding of their unique situations, needs and goals. She has the ability to make them comfortable speaking openly about relevant but sensitive personal issues which often play a significant role in shaping the way she advises and represent each client.
Trusts and Estates attorney Erica Bell has a depth of knowledge and experience in estate planning and probate matters, including gift and estate tax issues. Ms. Bell possesses first rate writing skills and a knack for explaining complicated legal concepts in layperson's terms without ever talking down to clients. Ms. Bell has a reputation for scrupulous ethics, honesty and integrity. She is highly respected by her colleagues as a go to person for advice regarding estate planning and probate matters, and is proud to have earned the coveted Martindale Hubbell AV rating. With offices in New York City, Trusts and Estates attorney Erica Bell is a sought after lecturer in her field, especially (but not exclusively) with respect to cutting edge LGBT and domestic partnership issues. Erica has been extensively quoted in Newsday, The Wall Street Journal, USA Today, New York Daily News and the New York Post and has appeared on several programs on CNBC and on In the Life to discuss a variety of estate planning topics.
Among other achievements, Ms. Bell is proud to have represented the Estate of H. Kenneth Ranftle, which resulted in the first recognition of a surviving same sex spouse in a probate proceeding in New York. She worked in close collaboration with the attorneys at Lambda Defense & Education Fund to take the case all the way through the appeals process, winning at every level, including the highest court of the State, the New York Court of Appeals. The decision in the Ranftle case was specifically cited by the Second Circuit Court of Appeals in the groundbreaking decision of Windsor vs. United States.
After graduating from law school, Erica Bell served as Law Clerk to the Honorable Inzer B. Wyatt, U.S. District Court, Southern District of New York, from 1983-1984, and then practiced for several years as an associate at the New York firms of Willkie Farr & Gallagher and Stillman, Friedman & Shaw (now Stillman, Friedman & Schechtman, PC.)
When not practicing law, Ms. Bell loves to travel and to cook for family and friends, and has an abiding interest in art and photography.
Schedule a consultation via email with Trusts and Estates attorney Erica Bell in her New York City office, or call 212-223-3146.
Admitted: 1984, New York and U.S. District Court, Southern and Eastern Districts of New York
Law School: Fordham University, J.D., 1983. Member, Fordham Law Review; Member, Fordham Moot Court Board.
College: Hunter College of the City University of New York, B.A., cum laude, 1979, Major: Psychology; Minor: Counseling
Professional Memberships: The Association of the Bar of the City of New York (Committee on Trusts, Estates and Surrogates Courts since 2007); New York Women's Bar Association (Former Co-Chair, Trust and Estates Committee). New York County Lawyers Association. LGBT Law Association (former 1st Vice President); New York State Bar Association; American Bar Association.
CLE Lecturer: The Association of the Bar of the City of New York (lecturer since 1995 on a variety of estate planning topics); Practicing Law Institute: "Basic Estate Planning" (Program Chair 1998-2001) and "Annual Estate Planning Institute" (Lecturer on Estate Planning for Domestic Partners and Non-Traditional Families, 1998-present); UJA – Federation: "NY Estate, Tax and Financial Planning Conference"; AICPA; NY County Lawyers Association.
Contact Trusts and Estates Attorney Erica Bell by phone 212-233-3146 or email.